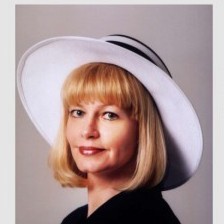 Tatiana Anufrieva
Tatiana Anufrieva (1959, Riga, Latvian SSR) – an artist and a teacher.
Tatiana Anufrieva was born in Riga and graduated from Riga Secondary School Nr. 30. She started drawing at the age of two years old ("as mother says: "She started drawing as soon as she grew old for diapers"). Her skills in modeling and drawing became apparent already in the kindergarten and in the playground by her house, where she drew dolls, castles and fairy-tale characters for other children.
After graduating from school she decided to study at a specialized education institution of classical painting, which, not only prepares artists, but also teachers, and that education she received at the Buturlinovka Pedagogical Academy of Graphical Art (Voronezh, Russia). Starting from 2000 its official name is Buturlinovka Pedagogical Academy.
Afterwards, already in Riga, she finished the courses in painting and art history at the Latvian Academy of Arts. Later, she took courses in pottery, leather and glass processing, decorative and applied arts. Tatiana Anufrieva also mastered various trends and styles of art. She worked as a school teacher of painting and still teaches at an art studio (since 2007 she has her own art studio), conducts master-classes and seminars for learners with different skill levels. "Painting is my life" – says Tatiana Anufieva. She created more than 4 thousand paintings, she is a creative and ever searching artist, who creates masterpieces from ceramics, textile, glass, decorative items; works in different styles and techniques: modernism, pointillism, impressionism, pastel technique, performed with chalk or paint, painting on silk, collage etc. The paintings, made in the technique of pointillism, are especially dainty. A painter works out the composition by putting small points on canvas, which allows to create the effect of an amazing lightness, and at the same time – fills the artwork with volume.
As Tatiana says herself: "My style was influenced by Salvador Dali, Claude Monet, Leonardo da Vinci and many other artists." In my opinion, the best characterization of her work is given at her personal web-page (http://artstatiana.com/):
"The art of Tatiana Anufrieva differs from traditional and modern painting art of Latvia. A very clear influence of Salvador Dali is felt in her style. But this is not a mere copying. On the contrary with Dali, when traditional, even, classical technique of painting was completely mixed into surreal images, every painting by Anufrieva contains both classical and surreal images. They are not fused into each other, but are very clearly seen. However, it is impossible to separate them. They merge and interfuse with each other and cause associations with Chinese philosophy or Western dualistic ideas. Images of women, shells and geometric bodies are drawn in a completely classical manner are placed next to surreal or abstract lines, spots and complex color structures. But this is not an eclecticism but a well-balanced and completely individual artistic system. All elements of our world are almost constantly present in Anufrieva's paintings. Here we can see trees, sea shells, air. But her air is never empty. It is filled with water drops, balloons, life, in other words – with movement. And the elements of human civilization, which are not rare in her works, are not opposed to nature, but organically merge with it, are inseparable of it and supplement it.
Still life is another trend in Tatiana Anufrieva's art. At first glance, they were created in a classical manner, which brings the memories of classic Dutch artists, however, at this point, unexpected and modern items lightly and freely enter this classical composition; glimmering impressionist strokes suddenly brighten the still creases of draperies, which start to move and live their own lives; fruits and dishes, as if taken from the 17th century, are reflected in surreal backgrounds and are surrounded by suprematist color surfaces and spots. But this also does not cause any feelings of eclecticism. It is a totally organic artistic system, a peculiar reflection of our world, in which active and still, antique and modern, materialistic and idealistic interact with each other."
Along with her favourite painting, another amazing calling of Tatiana Anufrieva has been manifesting itself for more than 40 years, which is pedagogic. She teaches drawing to people of different ages and professions, works with children (starting from 2 years of age) and 80 years old pensioners. She tries to show them the world of paints, canvas and the feeling of a true inspiration. This is what she says: "Everyone can draw, but not everyone knows how to do it. I gave a brush to an adult, who previously held it in a secondary school, and told him: "you must be brave! Here are the brushes, here is the canvas – create! I will help you!" At first it will be perceived as a recreation and a mere pleasure, but gradually an individual will start to comprehend the horizons and abilities, provided by those tools. Multicolor paints are a true relaxation, they bring rest to a soul, as well as joy to eyes and personal satisfaction with oneself - a person is not a hostage of the accelerating pace of life, now he is an artistic Personality! This is the main goal of my life – to reveal artistic potential in people and send it in the right direction. It is important for me that after achieving a certain level of artistry, everyone is able to get rid of inner barriers and be proud of achievements, to rejoice with family, colleagues, friends."
Since 1978 Tatiana Anufrieva taught more than 10 000 pupils. She does not only teach artistry and helps to master different techniques, but constantly organizes exhibitions of her pupils, many of whom continue to study painting already on a professional level and enroll into professional higher educational institutions in Latvia, Russia, Italy, become artists, designers, couturiers.
T. Anufrieva is going to publish a book "Journey to the World of Art", in which everyone, a non-professional, can try to master almost all of the available branches of art.
The works by Tatiana Anufrieva participated in exhibitions in Latvia, Germany, USA, Russia, Ukraine, Italy, Mexico and other countries. She organized a lot of her own personal exhibitions as well. Since 1976 she organized 85 such exhibitions! Her works are kept in private collections around the world – in Latvia, Canada, USA, France, Italy, Australia, England, Poland, Germany, Mexico etc.
Tatiana Anufrieva is a bright, amazingly optimistic person, who is always open for everything new, she sincerely loves people, and can relive joy and grief of others. Tatiana finds her inspiration in communicating with people and by travelling to other countries. She travelled throughout the whole Europe, America, India, knows foreign languages (English and French), learns Italian and Spanish. She writes poetry, does yoga; nature – forest and sea, are constant sources of her inspiration. She is a dedicated gardener, for her kitchen is also the place of inspiration and creation of masterpieces!
Erika Tjunina was interviewing Tatiana Anufrieva
Paintings by T. Anufrieva, photos and press can be seen on the personal web-page of the artist: (http://artstatiana.com/):
Paintings (acrylic, watercolor, oil, pastel, silk) in the section "Gallery" - http://artstatiana.com/?page_id=44;
Photos – http://artstatiana.com/?page_id=1510;
Articles and interviews are in the section "Press"– http://artstatiana.com/?page_id=820).