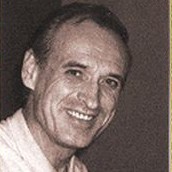 Valentin Bogolyubov
Valentin Bogolyubov (1948, Liepaja, Latvian SSR) – the piano player, trainer for vocalists, opera producer.
Valentin Bogolyubov studied at the Musical College in the class of choir conducting, then piano playing. He demonstrated great abilities for music and entered Latvian Conservatory in 1966, had a traineeship in Moscow Conservatory at J. Flier. His qualifications were: concert performer, concert master and teacher. V. Bogolubov worked for some time in the Bolshoi theatre where accompanied V. Atlantov, A. Vedernikov etc. as pianist soloist.
He worked in the Latvian National Opera for 15 years as conductor, staged plays and operas.
Since 1995 he has been living in Canada.