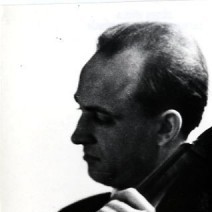 Oleg Barskov
Oleg Barskov (1935, Moscow Oblast, Russian SFSR – 2002, Riga, Republic of Latvia) – composer, cello player, teacher.
Oleg Barskov finished Latvian State Conservatory cello playing class and composition class. Laureate of the all Union Competition of musicians performers (1957).
Worked in the orchestra of Latvian Theatre of Opera and Ballet (1953-1963, 1975-1998), since 1979 was concert master. Worked also in the Symphonic Orchestra of Latvian Radio and TV (1963-1975). Since 1979 worked in Latvian State Conservatory as a teacher at the chair of Chamber Ensemble.
Composer, the author of ballets, choreographic miniatures, symphonic and chamber music.
He experienced the influence of neo-classicism, (Sergey Prokofjev) expressionism and neo-romantism.