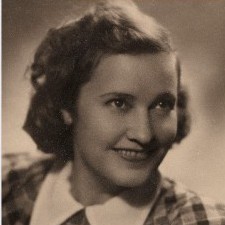 Valentina Valevsky
Valentina Valevsky (1905, Helsingfors / Helsinki, Russian Empire –1997, Riga, Republic of Latvia) – an actress of the Riga Russian Drama Theatre (1945-1985).
Valentina Valevsky was born on the 26th of November 1905 in Helsingfors (now Helsinki, Finland). Graduated from a theatrical studio in Ufa. Worked as an actress in the theatres of Sevastopol, Krasnoyarsk, in 1937-1940 was an actress of the Rostov Drama Theatre. In 1945 she received an invitation from the artistic director of the Riga Russian Drama Theatre A. Glekov and moved to Riga. She had been working in the Riga Russian Drama till 1985.
The Merited Artist of Latvian SSR (1965).
Certain theatrical works at the Riga Russian Drama Theater: Tatiana – "Enemies" by M. Gorky (1946); Madame Horsta – "In Fire" by R. Blaumanis (1950); Madame Kleberga – "Bather Susanna" by A. Upits (1954); Xenia – "Egor Bulychev" by M. Gorky (1964); Glumova – "Enough Stupidity in Every Wise Man" by A. Ostrovsky (1973); Pesochinsky – "Retro" by A. Galin (1980).
Was in the film "Dima Gorin's Career" (an aunt of Dima Gorin, 1961).
Valentina Valevsky passed away in Riga on the 9th of July 1997.
Erika Tjunina
Information sources:
http://www.kino-teatr.ru/teatr/acter/w/sov/340426/bio/;
«Рижский театр русской драмы. Рига, Зинатне, 1983 г.;
«Рижский театр русской драмы», фотоальбом, Рига, Лиесма, 1983 г.; фотопортреты 1927 – 1935 годов.