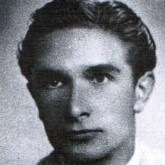 Valentin Blinov
Valentin Blinov (1928, Smolensk Governorate, Russian SFSR – 2005, Riga, Republic of Latvia) – ballet dancer, choreographer and teacher.
V. Blinov graduated from Moscow Choreography school in 1947 and was appointed to work in Riga. In 1947-1966 V. Blinov was a soloist of the ballet of the Riga National Opera. He also taught classical dancing in Riga choreography school and manifested himself as talented teacher.
V. Blinov was a brilliant ballet dancer, noticeable performer of specific dances. He was endowed with great dancing skills and temperament. Many famous ballet dancers such as M. Liepa, M. Barishnikov, A. Godunov studied at his class.
He left great legacy in the choreographic art of Latvia.