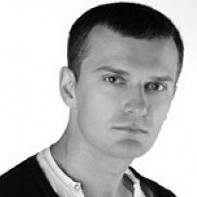 Alexey Avechkin
Alexey Avechkin (1976, Brest, Byelorussian SSR – 2013, Riga, Republic of Latvia) – ballet dancer.
During 15 years was a leading solo dancer in the ballet group of Latvian National Opera. At the age of 18 A. Avechkin finished Belorussian Ballet Academy and performed in the Belorussian Bolshov Academic Opera and Ballet theatre where was a soloist (1994-1998).
In 1998 he became a leading ballet dancer in Latvian National Opera.
A. Avechkin performed all the leading parties of classical ballet staged in this theatre.
He also danced in modern style, e.g. Otello staged by Alla Sigalova.
A. Avechkin possessed a brilliant dancing technique and received many awards.