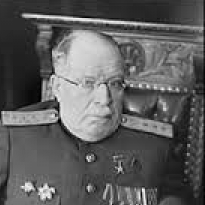 Nikolay Burdenko
Nikolay Burdenko (1876, Penza Governorate, Russian Empire – 1946, Moscow, Russian SFSR) – first President of the Academy of Medical sciences of the USSR, founder of Russian neurosurgery.
N. Burdenko studied at Juryev University (now Tartu University), faculty of medicine. Being a student took part in the Russian-Japanese war as a nurse.
N. Burdenko was appointed to Riga Clinical Hospital as a trainee.
During the 1-st World War N. Burdenko applied new techniques of field surgery. In 1916 he returned to Latvia and was appointed consultant surgeon in Riga hospital.
The experience obtained at the war allowed N. Burdenko to found a new prospective field in surgery-neurosurgery as independent scientific field.
In 1932 in Moscow was established the 1st in the world central Naurosurgical Institute (pres. named after N Burdenko)
N. Burdenko was the Chief surgeon of the Red Army. In 1946 N. Burdenko again visited Latvia for treatment, but he died at the same year.