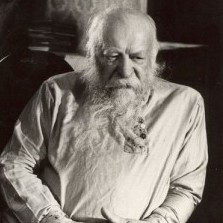 Ivan Zavoloko
Ivan Zavoloko (1897, Rezekne, Vitebsk Governorate, Russian Empire – 1984, Riga, Latvian SSR) – old believer's public leader, spiritual mentor, researcher of antiquity, ethnographer and catechist in pre-war Latvia. In 1940 was arrested by NKVD and served 17 years in camps and exile.
Ivan Zavoloko had become well-known in the 1920's and 1930's in Latvia as a public figure, spiritual leader of the Old Believers, researcher of antiquity, local historian and a pedagogue. In 1940 he was arrested by the NKVD (Soviet political police) and spent 17 years in camps and in exile. On his return to Riga in 1957 he became a free-lance worker of the Institute of Russian Literature in Leningrad (the Pushkin House) and participated in its archaeological expeditions. In 1968 Ivan Zavoloko made a gift to the Pushkin House of his 'Pustozersky Collection' (1670), which he had found. It is one of the most important documents of the history of the split in Russian Orthodoxy. The collection contains manuscripts of the 'Life' of the monk Yepiphany and the archpriest Avvakum, as well as their drawings. In total, Ivan Zavoloko gave the Pushkin House more than 100 manuscripts from his collection.
Photo: Ivan Zavoloko after returning from exile to Siberia.
Иван Заволоко. О старообрядцах г.Риги.
About him:
Борис Инфантьев. Странички из воспоминаний об Иване Никифоровиче Заволоко
Светлана Ковальчук. «...Чтоб уснувших будить...»
Борис Равдин. И.Н.Заволоко: от биографии к биографии
Дмитрий Март. Человек-эпоха: третьи международные «Заволокинские чтения – 2011»