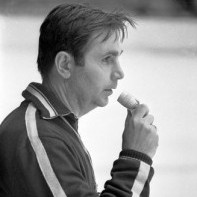 Viktor Tikhonov
Viktor Tikhonov (1930, Moscow, Russian SFSR – 2014, Moscow, Russian Federation) – a chief coach of the hockey team «Dinamo» Riga from 1968 to 1977. Later he was a chief coach of CSKA Moscow team and the USSR national team.
Viktor Tikhonov during training, 1974.
Photo by B. Tiknus from the archives of LVKFFDA.