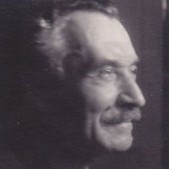 Andrey Bulatov
Andrey Bulatov (1882, Tiflis/Tbilisi, Russian Empire – 1955, Riga, Latvian SSR) – teacher of physics at the Riga city Russian secondary school (former Lomonosov gymnasium; from 1929 – Riga city Russian gymnasium).
A. Bulatov was born in Georgia. In 1910 he graduated from Petersburg Institute of Civil Engineering. His Riga period began in 1912. He worked at the Construction departament of Livland gubernia Council and taught at Technical courses in 1912-1915.
Since 1 July 1919 A. Bulatov was a teacher of physics in Riga city Russian gymnasium and worked there till its liquidation in 1935. He was a Principal of the gymnasium for some time.
A. Bulatov manifested good organizational skills in arranging interesting and creative school parties.
A. Bulatov was the member of the Union of Russian teachers of Latvia. After the closure of the gymnasium he worked as engineer at the factory «Laima».
Рижская городская русская гимназия (бывшая Ломоносовская) 1919-1935. - Рига, 1999