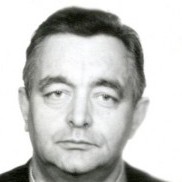 Vladilen Bogdanov
Vladilen Bogdanov (1935, Kaluga, Russian SFSR) – from 1986 to 1995 assistant professor of Riga Technical University.
Vladilen Bogdanov was born on 15 June 1935 in Kaluga. After the war moved to Riga where graduated from Riga Military Engineering Higher School in 1957. He served as engineer in the Baltic fleet. In the 1960—70-ies taught in Sevastopol and Bratsk higher educational institutions.
In 1986 V.Bogdanov moved to Riga and started to work at Riga Polytechnic Institute at the Chair of Strength of Materials. By that time V.Bogdanov had over 80 research works. In 1990-iea was transferred to Far East Marine Academy for 5 years as Riga Technical University representative. He retired in 1995 left Latvia.