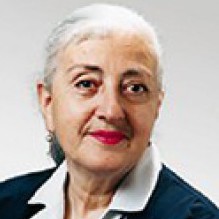 Ruta Schatz-Maryash
Ruta Maryash (nee Schatz; February 4, 1927, Riga, Republic of Latvia – November 29, 2016, Riga, Republic of Latvia)– lawyer, cultural and social figure, politician.
Ruta Shatz-Mariash was born in 1927 in Riga, the capital of Latvia - at that time an independent Baltic state. In 1951 she graduated from the legal Faculty of the Latvian University. Worked as a lawyer, as a defendant in court for 33 ears.
In 1984 she started her literary career. Her documentary book about her father Professor Max Shatz-Anin, a scientist, lector, lawyer and figure of culture, titled "The Past, Reality and Dream" was published in Riga in 1995.

In 1988 Ruta Shatz-Mariash became one of the founders of the Latvian Society of Jewish Culture and the Association of 18 national (ethnic) Cultural Societies of Latvia. She was elected in the Supreme Council of the Latvian Republic as a member of the Peoples Front of Latvia (1990-1993), worked there in the commission for Human Rights and ethnic Issues, was one of the authors of the Conception of the National Culture Autonomy in Latvia. She participated in preparing the Declaration about Restoration of State Independence of the Latvian Republic (1990). In 1993 - 1998 she was a Member of the Saeima - the Parliament of Latvia, was a deputy chairman of its Legal Commission.
Since 1995 to 2005 she was a member of the Commission of the Council of Europe against xenophobia, racism, anti-Semitism and intolerance – ECRI.