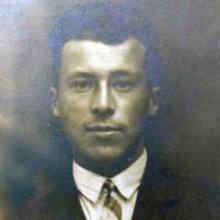 Nikolay Andabursky
Nikolay Andabursky (1907, Mogilev, Russian Empire – 1995, Riga, Republic of Latvia) – a painter and a graphic artist.
According to the metrical record of the Saint Joseph's Cathedral of Mogilev, his parents were a bourgeois Nikolai Andabursky and his lawful wife Matrena, both Orthodox.
In Riga, Nikolai's father worked as a ticket cashier on the Zemitani railway station.
In 1928 Nikolai Andabursky graduated from the department of exact subjects of the Riga Municipal Russian Secondary School (the former Lomonosov Secondary School). In the same year, he enrolled into the Latvian Academy of Art. In 1938 Andabursky presented his course work "Port", however, the Academy Council, with the majority of votes, denied granting him the title of an artist, but, with the majority of votes, he received a certificate in shaped painting.
Andabursky participated in exhibitions. During the Second World War, he immigrated to Germany, but later was detained by Soviet authorities and returned to the USSR.
Later, he worked as an artist-designer on various enterprises of Riga.
Nikolai Andabursky died in Riga, on the 11th of March 1995.
Tatiana Feigmane
Information sources:
ЛГА, ф. 485, оп.1, д.10.
Борис Равдин. На подмостках войны. – Stanford, 2005.