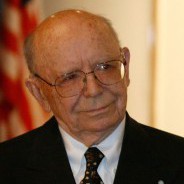 Nicholas Balabkins
Nicholas Balabkins (1926, Daugavpils, Republic of Latvia) – scientist, professor, public figure.
N. Balabkins was born in Daugavpils, studied in Daugavpils commercial college but did not complete it.
In 1946 he started studies in Goettinghen University, then moved to the USA where got master's and later doctors degree in economics.
N. Balabkins taught at the Universities of the USA, Canada, Russia and Latvia. He published 8 books in economics.
For his activities N. Balabkins was elected a member of Latvian Academy of sciences and was awarded medals and orders of Latvia. N. Balabkins is a head of the foreign department of Latvian Academy of Sciences.