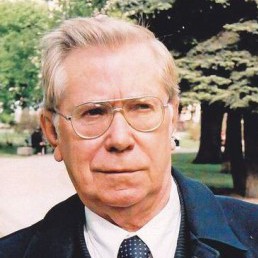 Vyacheslav Altukhov
Vyacheslav Altukhov - president of the Latvian Russian Community from 2001 to 2013.
V. Altukhov was born in Russia in the family of teachers. After graduation from Machinery College in Bryansk, was transfered to Latvia where worked in heavy industry as supervisor and technologist. V.Altukhov occupied engineering positions in many institutions of the Soviet Latvia, defended a candidate thesis in economics, taught economics in the Baltic International Academy.
Since 1991 is a member of Russian Community of Latvia, was its president till 2013. V.Altukhov is also known for his literary talent, he is the author of six collections of prose and poetry, 40 stories.
V.Altukhov is a member of the Russian Writers organization of Latvia and a member of the Inernational Association of writers and publicists.
Photo:Cosmonaut Anatoly Solovyov (born in Riga) and the President of the Russian Community of Latvia Vyacheslav Altukhov.